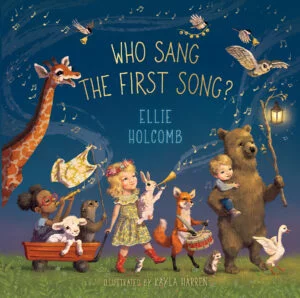 NASHVILLE, Tenn. — B&H Publishing recently announced "Who Sang the First Song?" by Ellie Holcomb achieved a Bronze Award from the Evangelical Christian Publishers Association (ECPA) for selling more than 100,000 copies.
"Who Sang the First Song?," published by B&H Publishing in 2018, was Holcomb's first book. Illustrated by Kayla Harren, the children's book reveals that God our Maker sang the first song, and He created us all with a song to sing. Holcomb, an award-winning singer/songwriter, also released an accompanying EP of original music, "Sing: Creation Songs," written especially for kids.
"B&H Kids is thrilled to celebrate 100,000 copies sold of "Who Sang the First Song?" says Michelle Freeman, publisher of B&H Kids. "Ellie Holcomb writes with intentionality and joy, and this book exemplifies her talent for crafting words that are evocative and song worthy. We are honored to partner with Ellie as she encourages young readers to wonder, to sing, and to know God is near."
"Who Sang the First Song?" hit the ECPA juvenile bestseller list and was a finalist for the 2019 Christian Book Award in the children's category.
Holcomb has authored three children's books, each exploring questions that spark curiosity. Her latest book, "Sounding Joy," answers the question "What Does Christmastime Joy Sound Like?" In addition to her children's books, Ellie wrote the bestselling devotional "Fighting Words: 100 Days of Speaking Truth into the Darkness," which released in 2021.
The post Ellie Holcomb's 'Who Sang The First Song?' Receives ECPA Bronze Award for 100,000 Sold appeared first on CCM Magazine.
Via News Archives | CCM Magazine https://ift.tt/oTiOkAt