13 December 2022 – NASHVILLE, TN – 2022 was quite a year for the award-winning sibling trio CAIN, and it's not over yet. While they made their debut on the famed Grand Ole Opry stage this past weekend, they just released a new music bundle for their hit song "I'm So Blessed" and are gearing up for a free interactive Christmas show this week.
Last Friday, CAIN performed on the Grand Ole Opry stage, sharing the evening with other artists such as Carrie Underwood, The Isaacs, and Sara Evans. Performing three songs to a sold-out crowd, CAIN – Logan Cain, Madison Cain Johnson, and Taylor Cain Matz – fulfilled a dream to appear on the iconic stage during an Opry show.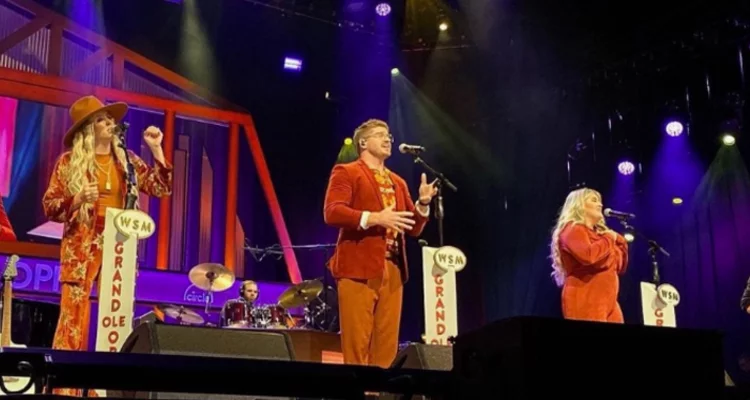 Also on Friday, CAIN released their I'm So Blessed Child of God Collection to DSP's. The bundle encompasses a variety of versions of the hit song including the original rendition, the "Best Day" Remix, a brand new live version with an accompanying video, and the original sound from social media that kickstarted the viral success of the song in late August. To date, there have been more than 100,000 user-generated uses of the sound on TikTok and Instagram accounting for more than 100 million views.
Celebrating the holiday season, CAIN will be hosting a free interactive Christmas concert experience this Thursday, December 15. The not-to-be-missed holiday event will feel like the band is performing right in your living room when they sing some Christmas songs, answer your questions, and get you in the holiday spirit. Viewers will get to hear songs from their 2021 holiday album, Wonderful, as well as their newly recorded holiday jingle "Christmas (Baby Please Come Home)" featuring Ben Fuller.
What will 2023 bring for CAIN? They'll kick off the new year headlining their first tour! Joined by Katy Nichole and David Leonard, the "Live And In Color Tour" will kick off in March. Additionally, new music is set to release – further details will be announced in January.
The post CAIN Makes Grand Ole Opry Debut + Host Free Interactive Christmas Concert appeared first on CCM Magazine.
Via News Archives | CCM Magazine https://ift.tt/VHwNaUT